From Four Nights Drunk
Steeleye Span
If You're Not Offended, You're Not Paying Attention
Une discussion littéraire à la deuxième Galerie (A Literary Discussion in the Second Gallery)
Honoré Daumier
http://en.wikipedia.org/wiki/File:1864_0227_discussion_280.jpg
The illustration above is of a "literary debate." Most of us try to discuss literature and books in a more subdued manner but there are those that are much more fervent in stating their opinions. When John Millington Synge's play The Playboy of the Western World first opened it provoked riots, as did Sean O'Casey's first plays. It is clear from the illustration and from these theater openings that some people take the arts much more seriously than others. There were a couple of articles recently, one on parody, "In Defense of Parody," and one on its cousin sarcasm, "Who Killed Sarcasm." The caption to the illustration is laced with sarcasm in one of its most ancient forms (it was very popular with Anglo-Saxon and Viking poets) litotes or understatement. Though not all sarcasm is parody by any means, much that is parody has a sarcastic edge to it. One of the better known parodies is of the poem "The Old Man's Comforts and How He Gained Them" by Robert Southey:
You are old, Father William the young man cried,
The few locks which are left you are grey;
You are hale, Father William, a hearty old man,
Now tell me the reason, I pray.
In the days of my youth, Father William replied,
I remember'd that youth would fly fast,
And abused not my health and my vigour at first,
That I never might need them at last.
You are old, Father William, the young man cried,
And pleasures with youth pass away;
And yet you lament not the days that are gone,
Now tell me the reason, I pray.
In the days of my youth, Father William replied,
I remember'd that youth could not last;
I thought of the future, whatever I did,
That I never might grieve for the past.
You are old, Father William, the young man cried,
And life must be hastening away;
You are cheerful, and love to converse upon death,
Now tell me the reason, I pray.
I am cheerful, young man, Father William replied,
Let the cause thy attention engage;
In the days of my youth I remember'd my God!
And He hath not forgotten my age.
To most modern readers the poem seems a bit pretentious and "preachy." Lewis Carroll obviously thought so when he wrote the following poem, "You Are Old Father William," that first appeared in Alice's Adventures in Wonderland:
"You are old, father William," the young man said,
"And your hair has become very white;
And yet you incessantly stand on your head —
Do you think, at your age, it is right?"
"In my youth," father William replied to his son,
"I feared it would injure the brain;
But now that I'm perfectly sure I have none,
Why, I do it again and again."
"You are old," said the youth, "as I mentioned before,
And have grown most uncommonly fat;
Yet you turned a back-somersault in at the door —
Pray, what is the reason of that?"
"In my youth," said the sage, as he shook his grey locks,
"I kept all my limbs very supple
By the use of this ointment — one shilling the box —
Allow me to sell you a couple."
"You are old," said the youth, "and your jaws are too weak
For anything tougher than suet;
Yet you finished the goose, with the bones and the beak —
Pray, how did you manage to do it?"
"In my youth," said his father, "I took to the law,
And argued each case with my wife;
And the muscular strength, which it gave to my jaw,
Has lasted the rest of my life."
"You are old," said the youth; one would hardly suppose
That your eye was as steady as ever;
Yet you balanced an eel on the end of your nose —
What made you so awfully clever?"
"I have answered three questions, and that is enough,"
Said his father; "don't give yourself airs!
Do you think I can listen all day to such stuff?
Be off, or I'll kick you down stairs!"
Most who read the parody today are probably unaware of the poem that it parodies and see it as a satiric take on parental advice in general. It is probably true that most people prefer a joke to a lecture and that of the two the joke is the more likely to be remembered. This is certainly true of these two poems. Southey though was a popular target of parody and ridicule. He was, like William Wordsworth, a radical as a young man and a conservative later in life. As a young man his radical politics made him the object of ridicule as is seen in the cartoon below.
The Friend of Humanity and the Knife-Grinder
James Gillray
http://en.wikipedia.org/wiki/File:Knife-Grinder-Gillray.jpeg
The poem that follows the cartoon is also a parody of another of Southey's poems. Most parodies are not as successful as Lewis Carroll's because they are often very topical in nature and when the event being ridiculed has faded from memory, the parody often fades with it. This is the case with the cartoon and the poem parody attached to it. In the 1960's there was a parody of Shakespeare's play Macbeth that received some acclaim. It was called Macbird and it poked fun at the Johnson administration and suggested that Johnson was involved with the Kennedy assassination, a popular conspiracy theory of the times. But like the cartoon, today the play is not well known, and it is likely that after my generation passes on it will be forgotten and only capture the interest of historians.
Those parodies that do survive often do so because, like Carroll's poem, they do not depend on their sources for their success. Gulliver's second voyage in Gulliver's Travels is in part a parody of books written by retired mariners like Alexander Selkirk (the original "Robinson Crusoe") and William Dampier (the pirate, or if your sympathies are with the British a privateer, who was responsible for later rescuing Selkirk). Selkirk was put ashore on a desolate island for complaining that the ship he was serving on was not seaworthy. The ship later sank and Selkirk was later rescued so his choice may have been a good one. Selkirk and Dampier because of their connection to the Robinson Crusoe story may continue to capture people's imagination, but their books are forgotten and Swift's story endures though most readers (unless they read the endnotes to the Penguin and Oxford World Classics edition of the story) know nothing of the works being parodied.
Merrymaking on the Regent's Birtday, 1812
George Cruikshank
http://upload.wikimedia.org/wikipedia/en/6/61/Regent%27s_brithday.jpg
As the illustrations above and below suggest parody, especially that which takes the form of cartoons, is often aimed at politicians and their behavior. The cartoons make use of a popular form of parody the caricature. In the cartoon below the caricature of Napoleon is easily recognized because he is an historical figure that is well known to this day. The caricature of the English Prime Minister, William Pitt, joining Napoleon to carve up the globe is probably less well known, even though he lent his name to the village of Pittsburgh. Also the picture of George IV is probably not well known today, though the behavior at the center of the cartoon still makes its appearance among the political leadership of most nations from time to time.
The Plumb-pudding in danger, or, State epicures taking un petit souper …
James Gillray
http://en.wikipedia.org/wiki/File:Caricature_gillray_plumpudding.jpg
There was another article recently about art and politics, "The New Political Art." The article points out that political art is often remembered for the wrong reasons and that it is often guilty of doing more harm than good. James Panero, the author of the article, points to Jacques-Louis David's painting The Death of Marat. He argues no matter how well the painting itself was executed it led to the execution of many innocent people during the "Reign of Terror" that followed the Revolution the painting helped to inspire. But Panero goes on to talk about the work of the Chinese artist Ai Weiwei whose art has provoked the anger of the Chinese government by drawing attention to his own treatment and that of other dissidents by that government. Because art often makes its first appeal to the emotions of the viewer or reader its effect can be profound because emotions once aroused often influence behavior. The Chinese government may feel that the effect that Weiwei's art has upon the citizens of China could, allowed to go unchecked, provoke a response not unlike the one provoked by David's painting, though it is the government of China whose behavior most resembles that provoked by The Death of Marat. The voice of the artist can be a powerful voice and when that voice uses parody and sarcasm as its means of expression that voice can be even more formidable.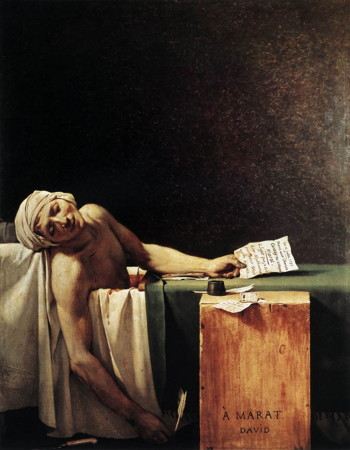 The Death of Marat
Jacques-Louis David's
http://en.wikipedia.org/wiki/File:Death_of_Marat_by_David.jpg
Simon Schama in a recent essay, "Why I Write," discussed the influence of one of the 20th centuries most revered essayists, who at times employed parody, satire, and sarcasm, George Orwell. Schama ends the essay by listing Orwell's reasons for writing in the first place:
Orwell's four motives for writing still seem to me the most honest account of why long-form non-fiction writers do what they do, with "sheer egoism" at the top; next, "aesthetic enthusiasm" – the pleasure principle or sheer relish of sonority ("pleasure in the impact of one sound on another"); third, the "historical impulse" (the "desire to see things as they are"), and, finally, "political purpose": the urge to persuade, a communiqué from our convictions.
I like that Orwell begins with "sheer egotism." To write essays on a regular basis one has to believe they have something important to say, even if, as is often the case, they do not. But the second reason, "aesthetic enthusiasm" is what I enjoy most in essays when I read them (in all writing really) the "pleasure in the impact of one sound on another." As a reader this pleasure is one of the chief pleasures I get from reading. This is not to say I do not enjoy narratives (stories), whether fiction or non-fiction, but that I especially enjoy the orchestration of sound that many of my favorite writers achieve by where they choose to place their words in relationship to one another. This is often missing from satiric writing. Swift for example used a blunt language that was often zany, rude, and cacophonous; it is very funny but not very musical.
Christopher Beha in another article, "The Marquise Went out at Five O'clock: On Making Sentences Do Something," talks about another danger for the writer, the danger of paying too much attention to sentences and their construction. The worst writing is often writing that is musical as it is read, but that has little or nothing to say; writing that reveals a fascination with the sounds of words, but little concern with what they mean. Beha writes about how he wanted to write good sentences that could stand on their own, but sentences in stories and essays are "team players" and must serve the larger purpose of the piece and not their own self-interest. Parody intends to offend, if only the person whose work or character is being parodied. If it can be musical in its use of language, the Lewis Carroll poem uses the sounds and the rhythms of words very effectively, very musically, as does Orwell much of the time, so much the better. But parody is often most at home with an orchestra that resembles that of Spike Jones than that of the New York Philharmonic. Parody is at its core, I suppose, inelegant and wanting grace.
What Is a Snollygoster
Mark Forsyth
TED Talk
The video takes as its point of departure a very musical word, in a Gilbert and Sullivan sort of way, "snollygoster." It is also a word that is "rudely" musical and suggests the set up to a joke. The sounds of its parts are sonorous, but when put together they create "rude expectations." I don't care how melodic the word sounds, I wouldn't want to see my name used in the same sentence in which it is featured. The video is about political speech, freedom of the press, and the associations that words often have, especially in a political context. I was surprised to learn the title given to the executive in the American system of government, "president," was resisted and finally only accepted as a temporary compromise that would be revisited and changed later. We are still waiting these many years later for a more impressive and a more permanent title to be conferred on the President of the United States.
I suppose what makes a thing beautiful is its use. If the beauty of the language used to convey a message overshadows that message, than perhaps that beauty is a false beauty and not worthy of notice. The point of parody is to illustrate shortcomings, and unless the shortcoming being illustrated is pomposity, a beauty that overshadows its object, that is too ornate and glamorous for its subject, is beside the point. But when pomposity is its object what better way to underscore it than by gilding in gold a rancid lily. Sometimes the most musical fanfare is a flatulent one.
The Dance / The Happy Marriage VI: The Country Dance (Used to illustrate to The Analysis of Beauty)
William Hogarth