"The Rocky Road to Dublin"
The Chieftains and The Rolling Stones
"Sweet Dream (Are Made of This)"
Eurhythmics
"All the Roadrunning"
Mark Knopfler and Emmylou Harris
It's Just a Story
Caricature of Albert Brasseur in "Le Rire"
Sem
http://en.wikipedia.org/wiki/File:Sem_Brasseur_Le_Rire_1902.jpg
In an interview that first appeared in The New York Review of Books, "Everyman His Own Eckermann," Edmund Wilson discussed his views on art, music, and literature. Though known mostly as a literary critic, he spent most of his time talking about art, a bit less time talking about music and hardly talked about literature at all. The interview is also interesting because Wilson was both the "interviewee" and the interviewer. In this respect it is something of a Plato-esque dialogue on art and, like Socrates, he rarely asks a question he does not already have an answer for, even when protesting his inability to provide an answer. And though he does not say much about literature, what he says about art and music comes back to what he appreciates in literature, the stories that are told. He enjoys opera because it tells a story, all other forms of music he only listens to on records, not in the theater or the concert hall. He does not care much for the work of Picasso, not because it isn't well executed, but because it only succeeds at being clever. The drawing above is by one of Wilson's favorite artists, a caricaturist who called himself Sem, the Hirschfeld of his day, or perhaps it would be more appropriate to say Hirschfeld was the Sem of his day.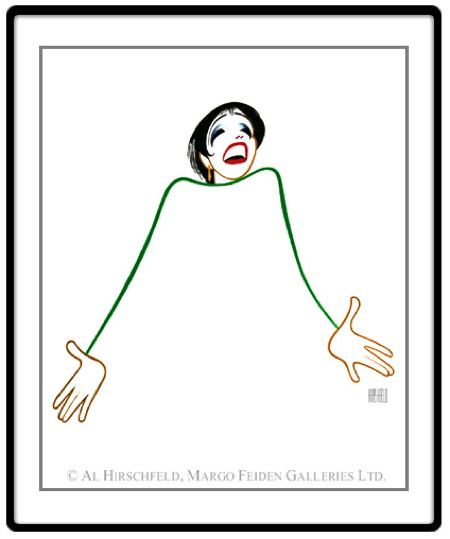 Liza Minnelli
Al Hirschfeld
http://en.wikipedia.org/wiki/File:Hirschfeld%27s_one-line_drawing_of_Liza_Minnelli.jpg
Both the Hirschfeld and Sem caricatures capture their subjects doing what they do best in a way that clearly and simply captures the essence of their subjects. Like Hirschfeld many, perhaps most, of Sem's caricatures were of artists, mostly actors, writers, and musicians; artists associated with theater and the performing arts of one kind or another. Both artists relied on a simplicity of line and expression to capture their subjects. Looking at the Sem drawing suggests a kind of continuity in the arts, as Brasseur's hat and coat and whip bring Charlie Chaplin's "Little Tramp" to mind; they are not identical but there is a threadbare quality to the costume that is not unlike that of Chaplin's tramp. And to get back to what Wilson admires about Sem (and what I admire about Hirschfeld) they are spare and simple drawings that tell stories. Like Shakespeare's theater, the artists' stage is a bare stage with no more in the way of setting and furniture than is absolutely necessary. As Poe suggests when writing about the short story, there is nothing extra, nothing that is not absolutely necessary for conveying their effect; the expression on each face and the contour of each body. The viewer's imagination does the rest.
Some might not consider these artists as "great," as "museum" quality, but their work involves the viewer and provokes an emotional response. Unlike Liza Minnelli, I do not know who Albert Brasseur is (I have discovered that, like Minnelli, he was active in the musical theater). But the caricature is evocative. It may be that the story I see in the picture is not the same story Sem's original audience would have seen, they are unlikely to make my connection to Chaplin's persona, and it is not likely that Brasseur was as intimately connected with this character as Chaplin was with the tramp. But this is often how art and story work; we see them in the light of our own time, our own personal history, and our own tastes and interests. Perhaps only I see Chaplin in this drawing. What others see may be colored by their experiences. There is also an ephemeral quality to the work of both artists, they are very topical, but Sem's work, transient though it may be, has survived for a hundred years, perhaps because, though we may not know who his subjects were, there is a wittiness to their representation that piques our interest or makes us laugh or in some other way makes us care about them. But then, what is it in any story that causes it to live (and not all do) long after the circumstances of their creation have been forgotten. 
The songs at the beginning are about roads that are rocky or arduous; they are also about dreams, sweet or otherwise. These are also at the heart of many stories, there is often a dream or an aspiration; there is always a journey to be made that involves difficulty and conflict. It is often the nature of the dream and the conflict that hold our interest. Brasseur's road looks like it has been a rocky one but he also appears to be a man with a dream and aspirations. These are also a part of what draws us to him. I like to imagine that Ms. Minnelli is singing Chaplain's song "Smile": "Smile though your heart is aching / Smile even though it's breaking. / When there are clouds in the sky / You'll get by." This, too, is an important aspect of those stories that survive.
Bagpipe Player
Hendrick ter Brugghen
http://www.nga.gov/content/ngaweb/Collection/art-object-page.144298.html
The paintings above and below tell different stories. They are portraits, not caricatures, of men engaged in something serious, at least from their point of view. Being Scottish I take delight in the picture of the bagpipe and can imagine its sound. The musician playing the bagpipe evokes a story as well. I cannot tell if that is all shadow on his shoulder and not also a bit of dirt or a bruise. The bagpipe is a martial instrument and so it would not be surprising if the player has been involved in conflict. Even if the shoulder is not bruised the shirt does seem a bit disheveled. He seems to enjoy the music he is making, whatever the occasion for the music making.
The old man, on the other hand, appears to be more world weary, more troubled. I cannot know what it is that troubles him, perhaps it is only his advancing years, but the muscles and veins on the neck are tense and the eyes are troubled. He looks determined, though I do not think he looks hopeful. But I empathize with him and I want to help him, though I do not know how. Stories do not always offer answers and often it is not a quest for answers that draws us to stories, but a desire to discover what it means to be fully human and part of being fully human is learning how to comfort those we cannot help, at least not in the way they need to be helped. Job's friends may not have been able to change Job's circumstances, but they could have offered him solace and comfort instead of judgment and because they didn't we judge them and wonder how genuine was their friendship. 
Head of an Old Man
Abraham Bloemaert
http://www.nga.gov/content/ngaweb/Collection/art-object-page.133023.html

Wilson, in talking about the artist Callot, mentions the Commedia dell'arte, an early form of Italian theater that is with us to this day, and has many of its antecedents in Plautus and the theater of Rome. Also, as in the painting below, the Commedia was often a kind of "street" theater that appealed to the masses, to the "simple folk" who were rarely as simple as some would have us believe. The Commedia had a cast of stock characters and we as the audience could always tell who was who based on their costumes, their masks, and their antics. There is a language of theater, a language of performance. Ben Jonson in his play Volpone, and many of his other plays, borrowed heavily from the Commedia. Moliere, in his comedies, used characters who had their origins in the Commedia as well. Tartuffe, The Miser, The Imaginary Invalid are all characters lifted from this ancient theatrical tradition. The plays are still very funny because the character traits being mocked are all caricatures of personality types we recognize. We are not likely to know anyone who possess these traits to the degree the characters in these plays possess them, it is not likely that anyone has ever possessed these traits to this extreme. They are exaggerations that nonetheless capture something real about how we as humans are corrupted by these traits; how to some degree we all possess these traits and in laughing at the antics on stage we are laughing at ourselves. 
Commedia dell'arte
Karel Dujardin
http://en.wikipedia.org/wiki/File:KDujardinsCommedia.jpg
Stories often help us to see ourselves as we are and to not take ourselves too seriously. Malvolio, in Shakespeare's Twelfth Night is modeled on the same character type as Tartuffe (though he lacks Tartuffe's intelligence or resourcefulness, but on the other hand Tartuffe does not have Malvolio's sincerity). We have all known people to whom we wanted to say, "Dost thou think, because thou art virtuous, there shall be no more cakes and ale?" And if we are honest with ourselves there have been moments in our lives when those around us, probably wanted to say the same to us. Some look askance at others for being too judgmental and some at others who are unwilling to make judgments. It is human to be critical of those that do not adhere to our "code," whatever our "code" is.
Marin Scorsese in an article for The New York Review of Books talks about the language of film, "The Persisting Vision: Reading the Language of Cinema." He talks about the environment of film, at least of film viewed as it ought to be viewed. Films need to be seen in a dark room surrounded by strangers (many of whom you might avoid were you to encounter them on the street). For me the clicking sound of the projector is also an important part of the experience. Just as the Commedia had its stock characters, so also cinema has its stock characters. At its simplest we know the good guys because they wear white hats. But in film, the hard-nosed detective, no matter who plays him, is a type of character, the cowboy, whether played by John Wayne, Roy Rogers, Clint Eastwood, or Steve McQueen is a character type. Both the cowboy and the detective have an "unsavory" veneer about them that is contradicted by their actions, or at least times it is. Black and white as a film "genre" is also a significant part of my film experience. I am used to seeing movies in black and white, even movies that were originally made in color, like, for instance, Invaders from Mars. I saw this film, and many others, every night for a week when it played on a television program called Million Dollar Movie. This program played the same film every night for a week. But television when I was a child was all black and white and I was amazed when I discovered, fairly recently, Invaders from Mars was original shot in color.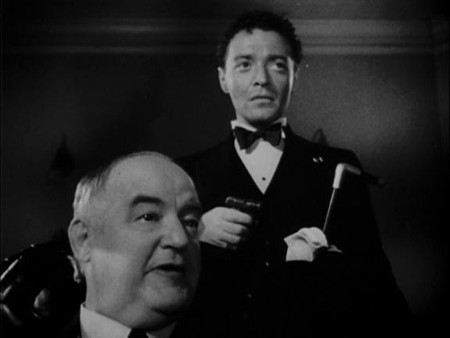 Scene from The Maltese Falcon
John Huston/Warner Brothers
http://en.wikipedia.org/wiki/File:GutmanCairoMaltFalc1941Trailer.jpg
But many films were originally shot in black and white because the lack of color helped create an atmosphere, especially in "film noir" movies like The Big Sleep or Laura. Tension and mystery were enhanced by the lack of color, as was the seediness of many of the characters and situations. These films may have been originally shot in black and white for budgetary reasons, but the directors of these films took a limitation and made it into a strength. I remember seeing Brideshead Revisited for the first time on a black and white television set. Because I didn't know any better I thought the maker of the series was brilliant in choosing to shoot the film in Black and White because it helped capture for me the essence of the 1920's; it had a newsreel quality to it that enhanced the "feeling" of the times in which the story was set. It was only later that I realized the filmmaker was not as brilliant as I had thought; the series was actually shot in color and I just did not have a color set on which to see it. But again, our experience colors our interpretations and understandings of the stories we experience. 
Spider-Man, The Lion King and life on the creative edge
Julie Taymor
TED Talk
In the video Julie Taymor talks about how she creates theater and films. Spectacle plays a large part in what she tries to do, but so does simplicity. She talks about how, when she was designing the Broadway musical (not the film) The Lion King she began much the same way Hirschfeld and Sem began, with simple lines, what she calls ideograms that capture the essence of character. Her productions, especially her last that did not go that well, are very complex, they attempt to do things not tried before, they take great risks. It can be debated as to whether or not the finished product was worth the risk, but she has done some remarkable things in film and on stage. She tells at the beginning of her talk of witnessing a religious ceremony. She was in darkness and those performing the ceremony were unaware of their "audience." In fact as marvelous as the spectacle of their dance, costumes, and of the setting for their performance was they were not performing for anyone; their only audience was, as far as they knew, God. 
Taymor believes that there is a religious quality to theater and story telling. The origins of the theater are religious, the Athenian Greeks used theater to communicate their myths and reinforce in the minds of the people the importance of the gods and the gods care for the universe. When actors came on stage wearing a mask the audience knew immediately who the actors were portraying because they saw the same faces on statues everyday as they walked about town. Rabelais in "The Abbey of Theleme" section of Pantagruel has the walls of the abbey painted with pictures that told all the important stories; that taught all the important lessons. This is not an unusual feature in Renaissance utopias, paintings in public spaces that taught the young and the illiterate the values of the utopic culture. A popular book of the time, for those that could afford such things, were "books of hours" that people would use to meditate upon during "hours" of prayer (the medieval day was divided into "canonical hours," compline, vespers, matins for example). On one page would be the text of a gospel or a psalm and on the facing page an illustration, an illumination, that told in pictures the story of the text. The arts, literature, painting, music, and theater all had their origins in a kind of education that passes along the cultural traditions in a way that is accessible to all and understood by all.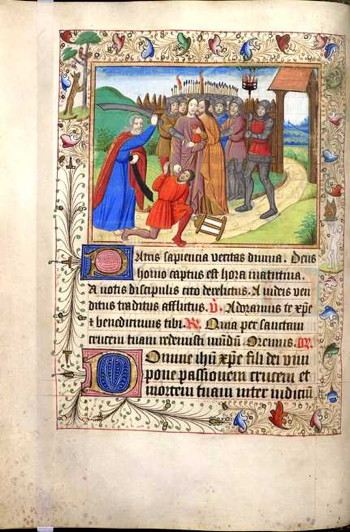 "Folio 31 verso from a Book of Hours (British Library, Royal 2 B XV), the Arrest of Christ"
Anonymous
http://en.wikipedia.org/wiki/File:BLRoyal2BXVFol031vArrestChrist.jpg
Peter Thonemann in his article "Seeing Straight" talks about architecture and how the buildings we design and live in are often suggestive of how we view the world and how we think the universe works. Early civilizations often built circular buildings, while later on square buildings became the design of choice. Thonemann suggests this is because the world as we observe it is circular; tree trunks, the sun and moon, the motion of the sun and moon; but ninety degree angles, that is squares and rectangles, are more functional as living and working spaces. I am not sure how much we can tell about a people based on their buildings, but I think we can tell something. What we make, the environments in which we choose to live, the stories that we tell, and how we choose to tell them all say something about us and about how we see ourselves. Are our living and working spaces an extension of our worship or are they places designed to bring us comfort? Can they be both?
There was an article in the online journal First Things, "Faith in Fiction," that discusses the disappearance of faith from modern fiction. I am not entirely sure this is the case, but much, maybe most, of modern fiction seems to avoid faith. But I do not think this is entirely the case, because I think we all live by faith. We select a worldview, or perhaps our conscience does, that guides the judgments we make. These worldviews are ultimately un-provable; they begin with an article of faith, God exists, God doesn't exist, science has the answer for every question (if not at the present moment, it will in time), we are born with a conscience, what we call conscience is the result of our upbringing. None of these assertions can be proved empirically, but we all have to start somewhere so we pick one. The stories a culture tells itself reveal the articles of faith that culture has embraced, even if that faith is one of "faithlessness." But our "gods" may be replaced with other "gods" as time goes by, just as the Jupiter once replaced Zeus.
Venetian Fantasy with Santa Maria della Salute and the Dogana on an Island
Edward Lear
http://www.nga.gov/content/ngaweb/collection-search-result.html?accession=2009.70.152&pageNumber=1
The painting is Venetian Fantasy. This suggests it captures a Venice that never existed, it is a fantasy, but it bears a close enough resemblance to the Venice we know, or at least that Edward Lear knew, to make the fantasy real. To those that do not share our faith it is a fantasy as others' faith often appears as a fantasy to us. One thing story should help us with is determining what we are going to "bet our lives on," because there are consequences attached to the beliefs we adopt; they dictate to us how our lives ought to be lived. Some think it is enough to live consistently with the choices we have made. Others think making the right choice is in itself critical, and those that think this way can often tell us what the right choice is. I believe in truth and that it is important to question everything with the belief that whatever is true can stand up to the scrutiny if it is true. 
Perhaps part of what characterizes the age is a fear of what we might find if we ask too many questions. There is a great temptation, not just in our age, but in every age, to seek comfort, to seek rest, to seek enjoyment and to evade the darkness, and often the easiest way to do this, at least in the short term, is to ignore unpleasant truths and difficult questions. To what degree is what we hunger for determined by the diet we are accustomed to and to what degree does what we hunger for challenge our conventions? I am not sure that stories can give us the answers we seek, but I do think stories encourage us to keep looking and to not be satisfied with easy solutions to difficult problems. The truth may often be simple, but it is never simplistic. 
The Artist Sketching at Mount Desert, Maine
Sanford Robinson Gifford
http://www.nga.gov/content/ngaweb/Collection/art-object-page.138735.html