Que Sera, Sera
Doris Day
Pastimes and Times Past
Children's Games
Pieter Brueghel the Elder
http://commons.wikimedia.org/wiki/File:Children.jpg
Those who were around in the 1950's will remember the song as will the Alfred Hitchcock fan who has seen the remake of The Man Who Knew too Much. Doris Day sings this song at the beginning of the film. It is about growing up and how one plans for growing up (the song not the film). It is, of course, not something easily done. How many adults are doing things they dreamed of as young children. But even those with a "Whatever will be, will be" approach to life and the future have to have a certain amount of training to be prepared for that "whatever will be" when it comes along.
The painting also captures the world of childhood and wonder. It is difficult to view properly in such a small scale but it is a street scene of children playing various children's games, hence the painting's title. I do not know if this is intentional or just the nature of children's dress at the time but most of the children look an awful lot like adults. To me this suggests that a lot of what children do is in imitation of the adults around them, but it also suggests that adults, or many of them, do not entirely lose the childlike or the childish.
I like to tell people that the passage of time makes me grow older but no power on earth can make me grow up and I think this sentiment might be in the painting as well. Playfulness is a quality that must be nurtured if we are to survive the world as it is and, maybe more importantly, not take ourselves too seriously. It often seems that the purpose of education, as it is practiced today, is to drive the child out of the person, to make the student a productive and responsible member of the society but not necessarily a happy or content member.
My seniors are starting the book Great Expectations this week. It is a book about aspirations, growing up, and how we treat those around us, especially those that have treated us well. Pip is a self absorbed child, as many children are, but he has been derailed from a path of contentment by malicious forces in the society in which he lives. Some of these forces, Uncle Pumblechook for example, probably mean Pip well; believe that fortune has worked to Pip's benefit, even if Pumblechook is looking to his own interests in the process. Most of the adults in Pip's life have advice for him that is intended to make him a productive member of society and this advice though often given to puff up the advisor is not ill intentioned, which is probably true of most of the advice adults give to the young.
But the adult that Pip is closest to, and hurts the most, is Joe, a man who has preserved the child within but who also behaves as an adult should when the situation demands. More than any other character in the book Joe is content and it is a similar contentment that he desires for Pip. But Pip acquires other aspirations. You have to read the story to find out how this all works out and how Pip got so far off track. But his story mirrors how many come of age, looking to status, position, and the good opinions of others to make one happy. The young are forced to decide what they will do when they are often more attracted to the bright surfaces of things than the darker realities that can lie underneath.
Children on the Beach
Mary Cassatt
http://en.wikipedia.org/wiki/File:Cassatt_Mary_Children_on_the_Beach_1884_.jpg
What many try to preserve of childhood is the carefree quality of childhood found in this painting. To be able to play at the beach without having to worry about where the buckets and shovels come from or how they are paid for. The sailboat in the distance looks inviting and carefree in its own right, but in order for the sailboat to look like this there must be those on board doing the hard work of keeping it on course and before the wind. If the boat is a "pleasure" boat those on board no doubt enjoy the work that they do, but if it is a commercial vessel there may be a different reality.
I met a young man while I was bicycling through England who was in the Merchant Marine. He seemed to enjoy what he did, but he did not really have a choice. He took an exam in the sixth or seventh grade or thereabouts that suggested an academic career was not for him and he was placed on an educational track that would prepare him for a trade and that trade became the Merchant Marine. I had an uncle who began in the Merchant Marine, went on to the Navy and submarines, and on to other things naval and seemed to enjoy it. He had opportunities to become an officer but enjoyed being a common sailor and so went as far as one can go without becoming an Officer, a Chief Petty Officer or something of that nature. Perhaps the young man I met felt about his career as my uncle did, I hope so anyway.
But it concerns me when the adults in a child's life get too heavy handed about directing the child's future. It may be that we will all spend our lives working on commercial vessels but I would like to think it is possible to approach our work in the same spirit as those on the pleasure boat; whatever the purpose of the boat, to generate profit or pleasure, the work is much the same. As a teacher I often wonder what is the role of education in preparing one for the world of work, in preparing a student for a career. I know what the image of school and education often is, I know how students often react to what I attempt to do, but I do not know if at the end of the day I have given students clarity about the future and how to prepare for it. Perhaps all anyone can do for others is show them how to use the tools that will help them find clarity.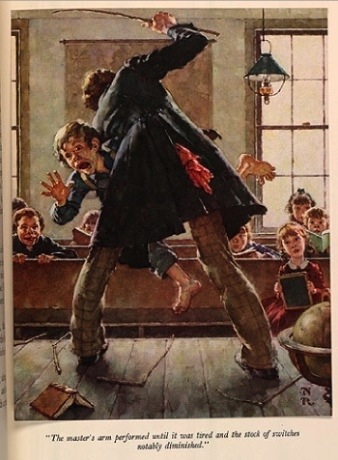 Illustration for The Adventures of Tom Sawyer
Norman Rockwell
http://etext.virginia.edu/railton/tomsawye/nostalgia/rockwellhp.html
I think this painting by Norman Rockwell probably captures if not the reality of school the spirit of it, or how it feels, if only metaphorically, to be a student. In the painting a number of students appear to be taking delight in seeing a fellow student put on the spot so to speak, being beaten by an adult in authority. Teachers cannot work their way through a supply of willow branches, as the instructor here has done (notice the broken sticks on the floor) but they can put students on the spot, make them feel inadequate because they cannot read a passage in a book or solve a math problem in front of a classroom of their peers. I remember when I was a freshman in high school I had started to nap in an algebra class. The next instant I heard my name called. I did not hear the question, I did not know what was going on in class but I saw an equation on the board and gave the answer to that equation. Evidently that was what I was supposed to do because the instructor was pleased and things moved away from me. I felt very pleased with myself and have obviously remembered the event to this day nearly fifty years later. But that was the exception and certainly not the rule; I have just forgotten most of the other less pleasant class room experiences.
From Big
Gracie Films and Twentieth Century-Fox
In the film all the character wants is to be big enough to ride the exciting rides at the amusement park, so he makes a wish. He wakes up a child with an adult's body. He cannot stay at home, he does not have enough money to support himself, and he does not have the skills to make his way in the work force. He finds his niche in society and gets a different kind of education from the one he got in school. In many ways the education he received packaged as an adult was more meaningful than the education he got in school but what he missed out on was some of the play. He was literally a kid in a toy store so he was not deprived of the toys themselves what he was deprived of was another to enjoy the toys with him. We never lose our hunger for community. Even the shiest most introverted, whether a child or an adult, yearns for a community in which to participate.
As an English teacher I make it my life's work to foist books on young people that would rather be doing something other than reading books. This may not be true of all students but it is true of many students. What is often missed in the stories we tell in school is the stories. We make them into objects for analysis; things to be pulled apart and dissected like a dead frog and it is no wonder that many students have no more interest in them than they do in dead frogs. I read an essay by Philip Pullman. It is his "Isis Speech". I do not know what Isis is as an organization, only as a myth so I do not know what the purpose of the speech was or of the organization to which it was given. I do agree with what he has to say about the teaching of literature and the importance of teaching it.
Among other things he believes that we all love stories and that it is often the story that is removed from a book when it is studied in school. But he also believes that stories we study in school need to be challenging and difficult. That just as human beings have many layers to their personalities so should the stories they tell each other. One purpose of studying stories is to see that there is more to most things than meets the eye. When we are reduced to who we are on the surface of our personalities we are reduced to stereotypes and one way to outgrow stereotyping others is to see beyond the stereotypes in the stories that we read.
Stories are what many of us had read to us by our parents as children and what we in turn read to our children. It is in telling stories that we come to understand the world, but it is also in telling stories that we come to find what is delightful in the world. For me stories are how I guard against growing up, stories preserve the magic and mystery beneath the surface of life and the mundane activities that fill up much of what we call living. Life is my beach and the books I read are my bucket and shovel.